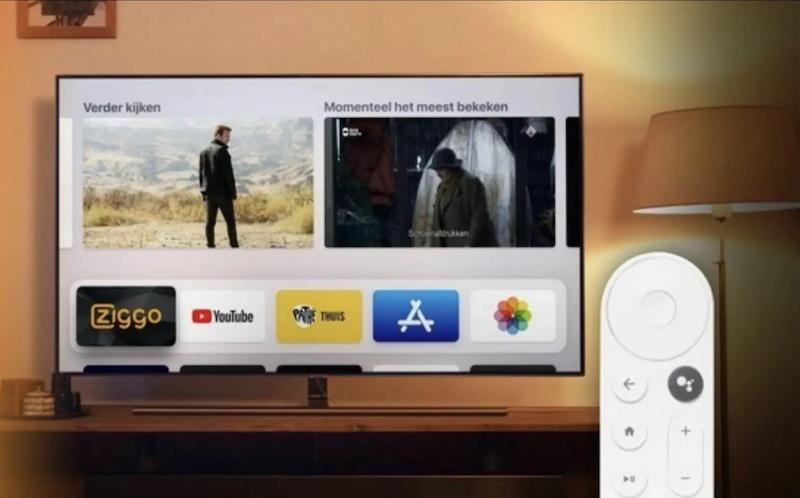 Ziggo verkoopt Chromecast met Google TV als extra kijkoptie
---
Ziggo biedt klanten diverse mogelijkheden om op een tweede of derde televisie in het huis te kijken. Daar hoort vanaf nu ook de nieuwe versie Chromecast bij.
Ziggo is begonnen met de verkoop van de nieuwe versie Chromecast, het ingebouwde besturingsplatform van Google TV. Het kabelbedrijf biedt voor Google TV (Android TV OS) een Ziggo GO-app aan. Met deze app komen vrijwel dezelfde mogelijkheden als de bruikleendecoders Mediabox XL en Mediabox Next binnen handbereik. De Ziggo GO-app voor online mediaspelers die functioneren met het besturingsplatform Google TV of Android TV OS en Apple TV HD/Apple TV 4K en Amazon Fire kan overigens alleen in combinatie met een internetverbinding van Ziggo worden gebruikt.
Gelijke aanbod
Met de Ziggo GO-app voor online mediaspelers en Smart TV-internettelevisies kan naar vrijwel het gelijke zenderaanbod bijbehorend bij het tv-abonnement als op de eerste televisie gekeken worden. Daarnaast zijn ook interactieve diensten als Replay TV en Begin Gemist alsmede video on demand-diensten met de Ziggo GO-app beschikbaar. Verder kunnen zelf in de cloud opgenomen programma's teruggekeken worden.
Zelf kopen
Ziggo biedt Chromecast met Google TV aan klanten alleen als koopvariant aan. Wie bij het kabelbedrijf het streamingapparaat bestelt, betaalt eenmalig tachtig euro. De verkoopprijs komt overeen met de gemiddelde verkoopprijs die andere verkopers voor het streamingapparaat hanteren.
Beperking
Ziggo beperkt het gebruik van het aantal Ziggo GO-apps voor online mediaspeler of Smart TV dat aan een tv-abonnement kunnen worden gekoppeld. Naast een bruikleendecoder of CI+ module danwel smartcard kunnen maximaal twee Ziggo GO-apps voor een online mediaspeler of Smart TV-internettelevisie aan het abonnement gekoppeld worden.
---
---
1